Technology has dramatically changed the world we live in and it will continue to do so. Yet as we become more and more dependent on technology across all industries, the human desire to read remains.  
Across all corners of the globe, from young to old, reading books has remained popular for centuries. While this continues to be the case, the way we are accessing books is ever changing. 
Over the last 10 years we saw a switch towards e-books and the use of Kindles, but as we enter a new decade, has our love for the physical copy remained? 
We decided to undertake some research into people's preferred reading habits, to discover if hard copies are back in fashion.
To do so, we surveyed 1,000 adults across the UK to understand how people are reading, how that differs between the men and women, and different generations and – crucially – if our love for real books remains. 
Ebooks vs hard copies
The introduction of the Kindle in November 2007 spearheaded a new way of consuming literature and challenged our traditional way of reading. 
However our research revealed that a huge proportion of the UK population has resisted ebooks. 
Out of the 1,000 surveyed 43 per cent admitted that they don't own a kindle.
30 per cent were proud e-book converts, who said they only ever read on digital devices. 
However the remaining 27 per cent, one in four of all adults surveyed, admitted they own a Kindle AND still buy paperbacks and hardbacks. 
Which means that while over half Brits own a Kindle, nearly three in four Brits still buy physical books. 
Preferred way to read
Does this mean that Kindles are gathering dust?
To understand, we asked participants to state their preferred methods of reading. 
Physical books triumphed in popularity, with more than half (53 percent) stating its their preferred way to enjoy a novel or piece of non-fiction. 
Digital consumption was second. However, only 25 percent say they prefer to use either a kindle (16 percent), a mobile app (5 percent) or an iPad (8 percent).
Interestingly audio books was the preferred option for just 4.6 per cent – one in twenty of us.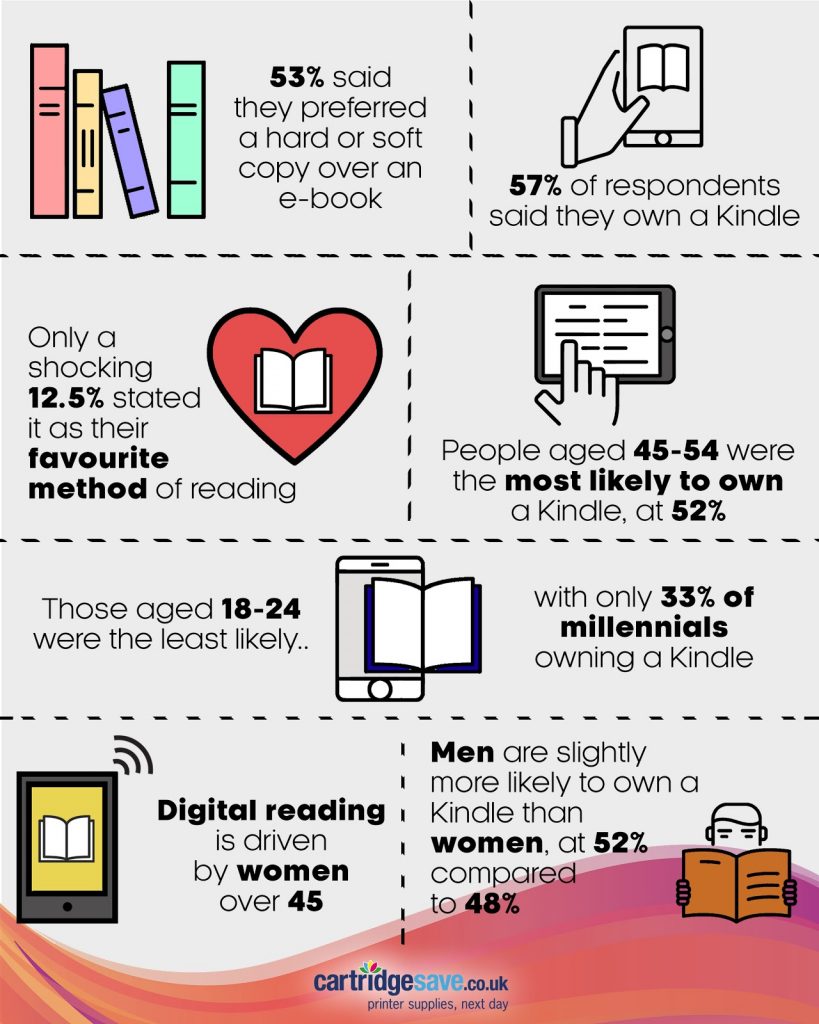 Age Demographics – who prefers a physical copy?
Generally, we saw similar results in terms of Kindle owners across the age groups. Respondents aged 45-54 were the most likely to own a Kindle, at 52 per cent, while – interestingly – those aged 18-24 were the least likely (33 per cent). 
However, delving deeper into our research, we discovered some interesting differences amongst age groups and their loyalty to the Kindle. For respondents who own a Kindle, those aged 45-54 were the most likely to still purchase physical books (33 per cent). However, only 15 per cent of Kindle owners aged 18-24 continued to purchase physical books. This suggests that the printed word is falling out of fashion with the under 25s and is being replaced by either audio books or a disinterest in fiction and non-fiction as a whole.
Difference between genders?
Falling in line with gender stereotypes, gadget-happy guys are more likely to own a Kindle than women. 52 per cent of men own a Kindle compared to 48 per cent of women. 
Out of those who own a Kindle, men are less likely to continue to purchase physical books. 57 per cent of men who own a Kindle no longer buy physical books. However, more than half of women (54 per cent) continue to purchase physical books after buying a Kindle. 
Interestingly, more women in our survey prefer a physical book over a Kindle, with 56 per cent voting for hard copy as their preferred way of reading. Only 43 per cent of male respondents selected this answer. 
In contrast male respondents were more likely opt for a digital way to read. 60 percent of those who opted for 'iPad' as their preferred way to read were men,  compared to 40 per cent of women. Male respondents were also more likely to select "Kindle" as their preferred method of reading compared to women, suggesting that men in the UK are more digitally committed than women.  
Drop in the popularity of ebooks
As part of our research, we analysed search volumes for Kindles across the last 15 years to understand if sales of ebooks are falling.

We can see a sharp rise in Google searches for Kindle from 2007 through to 2011, with December 2011 peaking in popularity, indicating its popularity as a Christmas gift.
However, after 2011 we see a steady decline in Google searches for Kindle. This decline suggests a waning interest in ebooks and complements a 2013 survey by Voxburner. Their research found that ebooks were losing popularity as young readers "enjoy holding the product", citing this demographic's desire to establish a physical and emotional through holding a book.
Against this landscape it's interesting to note that searches for bookshops have held steady for the last 10 years. Between 2004-08 the number of people searching for local book shops dropped significantly. However since then, the number of searches have maintained year on year.

The rise of the independent book shop
With the release of the Kindle and other ebooks, independent book shops have faced an uncertain future in the UK. 
However, research by the Booksellers Association reveals a resurgence in independent bookshops. Data collected by their annual membership survey claimed that independent books shops are not only surviving, but growing in numbers. From 2018 to 2019, 15 new independent book shops opened in the UK, growing for the second year in a row. 
Why we love real books
Whilst readers have been swayed to switch to digital reading, the advantages of hard copy are still prevalent. Educationally, students are more likely to absorb information when looking at printed books rather than a screen. Research, by the Evolution of Reading in the Age of Digitisation, based at the University of Limerick, of over 170,000 students across Europe found that students are more likely to absorb information on printed screens rather than on a digital device. 
Furthermore, being able to physically hold a book is something that the Kindle is struggling to compete with. Catherine Summerhayes of literary agency Curtis Brown said "I think your average reader would say that one of the great pleasures of reading is the physical turning of the page. It slows you down and makes you think." 
The British bookworm
The good news is whether reading via ebook or hard book, on a Kindle or a physical copy, Brits are continuing to read. Statistics from the Nielsen Bookscan revealed that in 2018 alone, 191 million books were sold in the UK. 
In fact, in a survey conducted by You Gov, 47 per cent of Brits label themselves avid or regular readers, with a further 34 per cent describing themselves as occasional readers.
Another study by OnePoll found that Brits will read on average 600 novels in a lifetime, with The Lion, the Witch and the Wardrobe, The Da Vinci Code, and Harry Potter coming in at some of our most popular reads nationwide. 
Book sales statistics
When it comes down to commercial books sales, physical book sales accounted for £2.9 billion sales in 2018, according to industry authority, the Publishers Association. 
In comparison, ebook sales – while up 5 per cent, year on year – only raised £653 million in sales. While it looks like our love for physical copies is here to stay, a trend to watch is the rise of the audio book. Over the same period, book sales for audio grew a staggering 43% to £69m in sales. Looking at the recent boom in podcast popularity, it's safe to say that Brits are turning their attention to audio related content, with one in eight Brits surveyed in the Media Nations 2019 report admitting to listening to a podcast every week.
SPECIFICATIONS