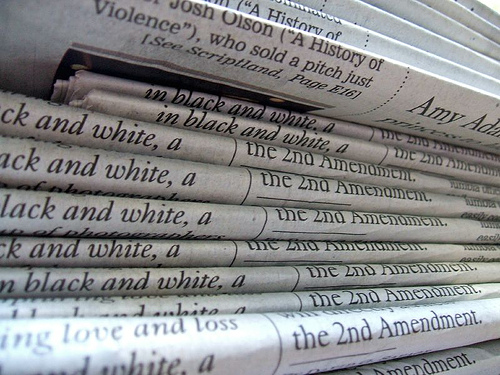 Image: DRB62

These shocking and occasionally uplifting headlines summarise but a few of the major historic events that have occurred since newspapers became popular and accessible to people worldwide. Extraordinary headlines such as these are incredibly powerful, thanks in large part to their brevity: in just a few short words, each conveys a message of history-changing significance to a potentially huge audience. Reading these headlines today, we are emotionally transported back to how we felt when we first heard this news.

It's a sad reality of the human condition that big news is usually bad news: only five of the headlines we explore here accompany positive stories. Headlines are there to sell papers, and it seems that death is more profitable to the press than hope or success. Nevertheless, alongside headlines of war, natural disasters and murders, below you'll find headlines of hope and the overcoming of adversity.


New York Times: "Titanic Sinks Four Hours After Hitting Iceberg" [16th April 1912]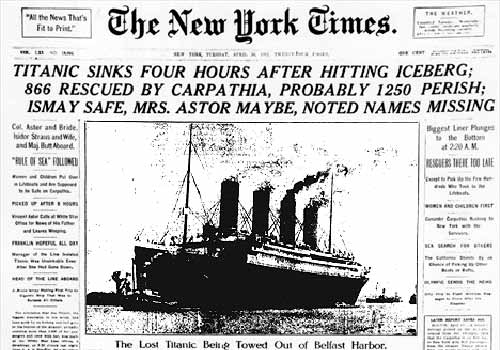 This was one of the few accurate headlines printed on the day following the sinking of the Titanic. Journalists at some other papers were still in denial that a ship thought to be unsinkable could have failed so catastrophically: The Daily Mirror reported, "Everyone safe", and the Daily Mail, "No lives lost".


Daily Mail: "Greatest Crash in Wall Street's History" [25th October 1929]

The Wall Street Crash of 1929, fuelled by uncertainty following an artificial share price boom, was the worst in U.S. history. On 24th October, panicked investors traded an astonishing 12.9 million shares.


The News Chronicle: "Hitler Dead" [2nd May 1945]

On 2nd May 1945, The News Chronicle, which later became the Daily Mail, published this bold headline. At the time, nobody could be sure if this news was true. The accompanying article claimed that Hitler had been killed in action, although it later transpired he had committed suicide in a bunker under Chancery in Berlin.


Daily Mail: "VE Day- It's All Over" [8th May 1945]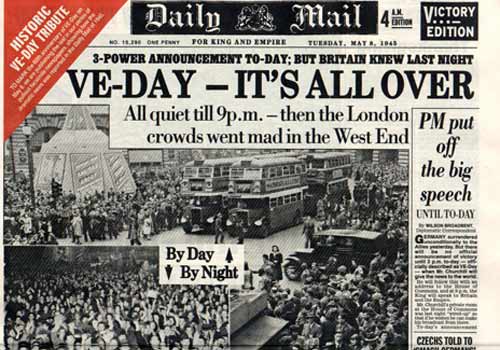 This headline appeared on the day World War II Allies accepted Nazi Germany's surrender. It marked the end of the War and Adolf Hitler's Third Reich.


Chicago Tribune: "Assassin Kills Kennedy: Lyndon Johnson Sworn In" [22nd November 1963]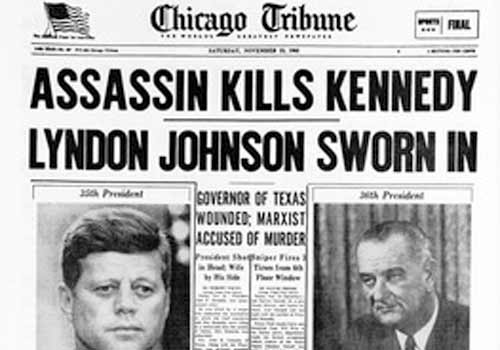 John F. Kennedy, the 35th President of the United States, was assassinated in Dallas, Texas. Five years later, his brother Robert Kennedy was shot dead in a Los Angeles Hotel. The headline in the Daily Mirror following that event was simply: "God! Not Again!"


Daily News: "Martin King Shot To Death: Gunned Down in Memphis" [5th April 1968]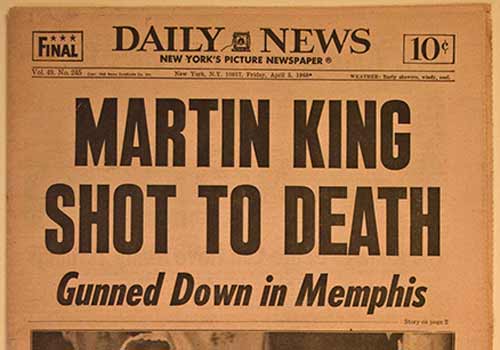 This shocking headline was printed the day after Martin Luther King, Jr. was shot and killed on the second-floor lobby of the Lorraine Motel, Memphis, Tennessee. He was 39-years-old.


Evening Standard: "The First Footstep" [21st July 1969]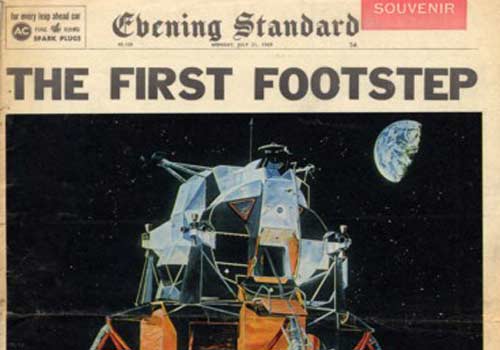 Neil Armstrong became the first man to step foot on the moon. As he touched the ground he famously declared: "That's one small step for man, one giant leap for mankind."


The New York Times: "Nixon Resigns" [9th August 1974]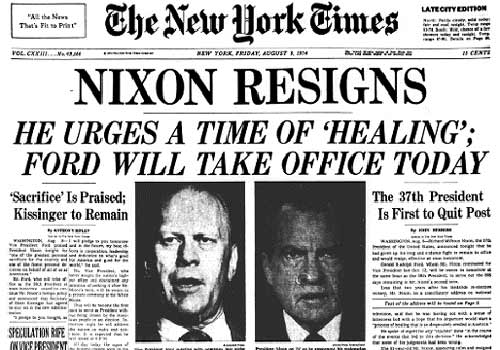 President Richard Nixon, fearing impeachment following the Watergate scandal, became the only President to ever resign from office. Gerald Ford later pardoned him, but he was never truly forgiven.


The Sun: "King Elvis Dead" [17th August 1977]

On 16th August 1977, "The King of Rock 'n' Roll" was found dead on his bathroom floor. As the subheading in the accompanying article reads: "He was 42 and alone". He had been using the toilet at the time of his death.


Los Angeles Times: "Beatle John Lennon Slain" [9th December 1980]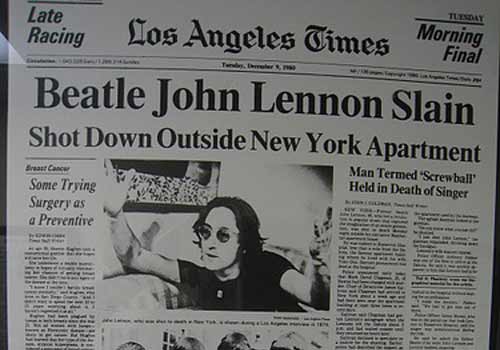 At 10.49pm, on the day prior to this headline running, John Lennon was shot in the back four times by Mark David Chapman, a fan who had been stalking him for 3 months.


City Press: "Mandela Goes Free Today" [11th February 1990]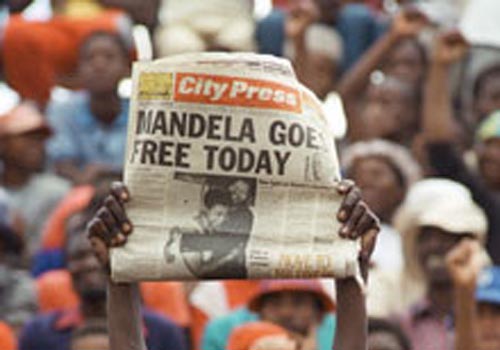 State President F.W. de Klerk reversed the ban on the ANC on 2nd February 1990. Shortly thereafter, Nelson Mandela was freed from prison, where he had languished for 20 years. On 27th April 1994, Mandela and the ANC won South Africa's first multi-racial election.


The Daily News: "Diana Dead" [31st August 1997]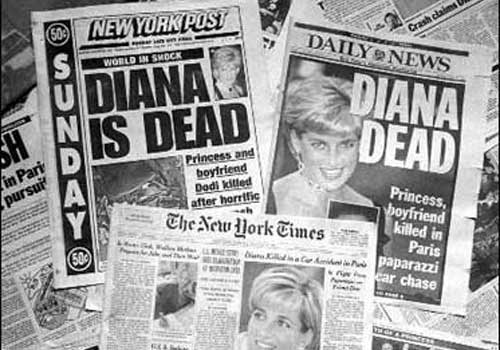 Princess Diana died after her Mercedes Benz S280 crashed into a pillar in the Pont de l'Alma tunnel, Paris. She was just 36. Her friend Dodi Al-Fayed was also killed in the collision.


The Daily Telegraph: "War on America" [12th September 2001]

On 12th September 2001, there was, of course, only one story dominating the headlines. On the previous day, terrorists had hijacked four commercial passenger jet airliners, crashing two of them into the Twin Towers and a third into the Pentagon. "War on America" was voted the most memorable headline of the last 100 years.


The Times of India: "We saw the sea coming, we all ran. But God saves little" [28th December 2004]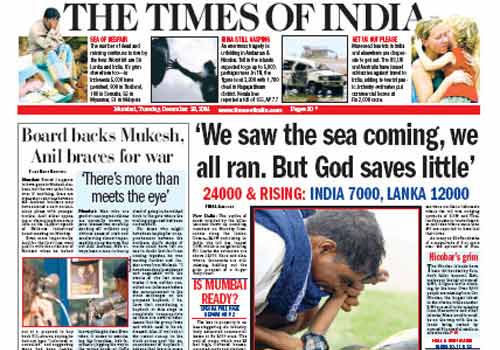 Just after midnight on 26th December 2004, an earthquake off the west coast of Sumatra, Indonesia, triggered a huge tsunami, which killed over 225,000 people in 11 countries.


New York Times: "Obama: Racial Barrier Falls in Decisive Victory" [5th November 2008]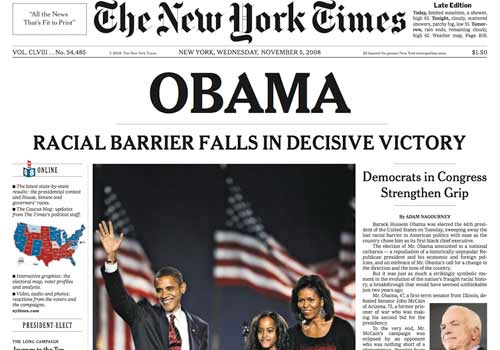 Barack Obama, promising change for the USA, defeated John McCain in the 2008 presidential election to become the first non-white President of the United States. He was later inaugurated on 20th January 2009.